I've always been a cheap bag girl. I treat my purses roughly, and I like to buy bright, distinct ones and change them often. A purse costing a few hundred dollars has never seemed a very good fit for me. For the last few years I've been on a hunt for the perfect leather slouchy messenger bag/purse hybrid, and I would splurge on that, but the appeal of that bag would increase as I roughed it up. Not so with your average It bag.
However, even a cheap bag girl has dreams. Mine is small, patent, and likely made of unicorn hairs and angel tears. I say this is likely not only because of its otherwordly beauty, but also because of its otherworldly price.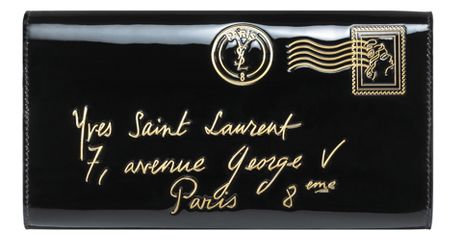 I realize the Y-Mail bags are in no way new to the market, I'm just still obsessed with them. Especially the clutch! It's gorgeous, it's quirky, it's patent... it's $395. Attainable, but painful. Oh so painful. Still, I have been known to make my sad little budget stretch farther than that for something gorgeous and of quality. Maybe if I ate only mac and cheese for a while?

Of course, the question isn't so much about how I'd justify spending so much money (I can justify just about anything), but more about where on Earth I would wear the thing, and what with?