1. Elizabeth Taylor in Cleopatra. Specifically, her makeup. The movie is a bit slow for me (and I'm barely into hour 2 of 4) but her makeup is totally worth it. Look at those eyebrows!
She also has a bunch of great dresses that are all slit down practically to her navel. I'm constantly on the lookout for dresses that are super low cut (I have a smaller chest, so it looks less risque on me) and I would love to have one of these!
2. This Fossil bag. I made the collossal mistake of going into the store yesterday and was totally mesmerized. Fossil bags are generally my aesthetic anyway (leather, lots of detail, kind of rugged, etc), and this new one is loooovely. I keep looking at my existing Fossil bag with some sadness. This one folds over!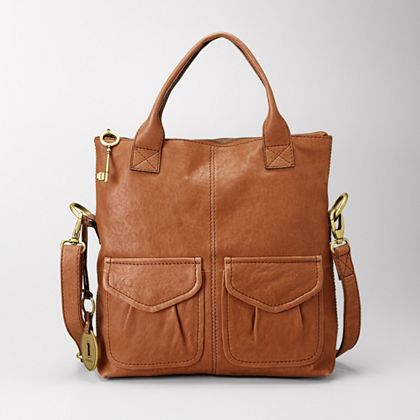 When I went in, the salesgirl told me they'd just set up for Christmas, and that I looked a lot like the models in the Christmas catalog. I was flattered (but baffled) until I realized a lot of them are pale with blunt brown bangs. Ah.
3. Nail buffers. Did you all know these existed? I feel totally out of the loop. This girl in the mall pulled me aside and buffed my nails- they looked like they had clear polish! I turned down their increasingly discounted offers, figuring I'd pick up a buffer at Walgreens. It was only $2, but the results are noticeably different. I'm trying to justify spending $35 for nails that always look shiny and polished...
4. Fable 3. 'Nuf said.